P8mm Standing LED Display Screen Player
Designed Special OUTDOOR Advertising LED Player under ClientRequirment, with Aluminum Body Frame, P8mm outdoor LED Displays and WirelessControl by WIFI-3G-4G-GPRS Control.
Until now, we have designed P3.91mm P4mm P5mm P6mm P8mm andP10mm Outdoor SMD advertising LED players, and can make some differentsize,such as 60" 73"83"90"105" And 120", Moreoptions for clients.
However, we have seperated our Advertising LED players into 3parts:
1. INDOOR LED TV types, we design Top Slim-lighter frame forLED Display TV,Almost same like LCD TV, it can provided high Brightness andmore easy way for maintenance
2. Outdoor Advertising LED players can be used OUTDOOR, fixedin Public stations, Gas station,Outside Shopping mall, Shop gate, OutsideBuilding of company and hotel, showing all kinds of advertising. Less investand get more feedback.
3. Standing lighting POLE with LED Display Banner, Until now,we sold some in CHILE countries, around whole high ways Street, Governmentallowed to put Small LED TV on Lighting Pole for advertising or warmings.
We provided not only for LED Displays, but we provided more service also. All led advertisingPlayers, we make them come true with Wireless CONTROL. Wifi/ 3G/4G orUSB/Momery Card control, No need Computer/
If you have more idea about Design,please share it with us atsales@porstarled.net or add whats App:0086-13715003940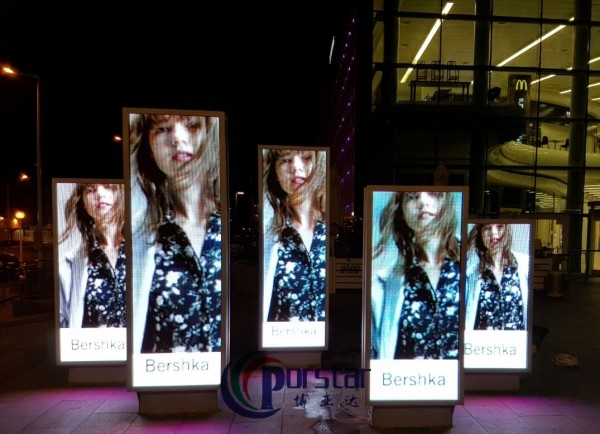 Add: 7th JunXing Industrial Road,LingWu Industrial Park,HuanGuan Road,Guanlan Town,Baoan District, Shenzhen, China.
Email: michael.chang@pstled.com

Mr. Michael Chang
Tel: +86 755 6660 5668
Fax: +86 755 6167 3308
Skype:michael870613
What's APP-1: 0086-13715003940
What's APP-2: 0086-17097320420

Send us drawings or sample for inquiry. Contact now!
Please send your message to us